✨Cardboard Forts 2 and Our SGM: Free Pizza, Forts, and More!✨
🗺️
This event is TONIGHT from 6pm at the Unleash Space in the Engineering building. The best way to get to this is from the Symonds Street entrance! Look for the orange or our banner/posters.
We've been busy brainstorming fresh and exciting ways to kick start our Semester 2 (S2) and, more importantly, ensure our club continues to thrive. With O-Week around the corner, we're hosting a sequel to last year's über successful Cardboard Forts event! Join us Thursday the 13th for Cardboard Forts 2!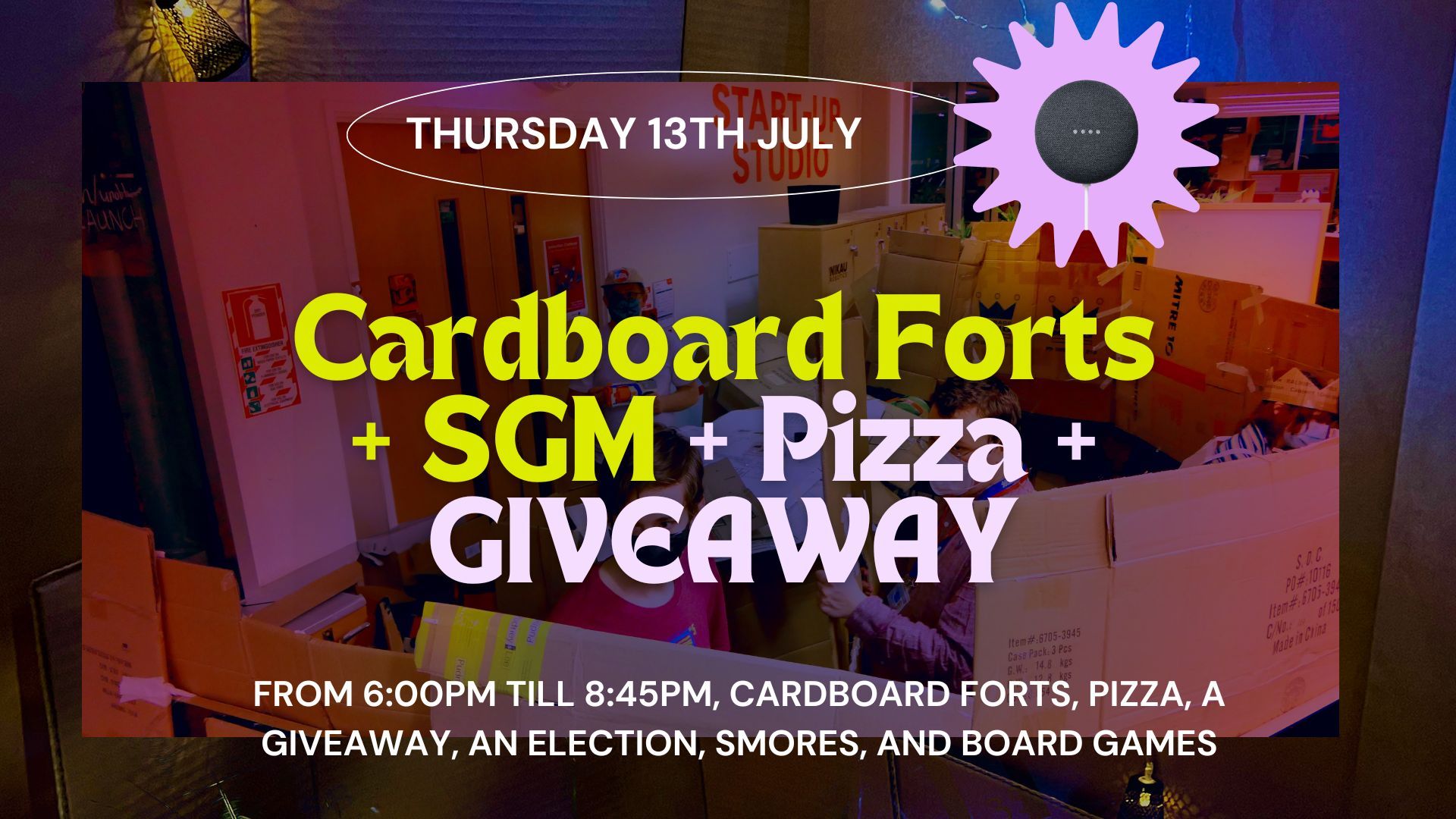 Cardboard Fort Building
Like last time, we'll be gathering all the recycled cardboard we can get our hands on, giving you tape and an hour to build the best forts you can! We'll have fairy lights, decorations, and glow in the dark paint for you to accessorise with
Elections, Free Pizza, and a Raffle
At 7:00PM, we'll take a pause from our bustling fort city build to hold our Special General Meeting (SGM) elections. Have your say in the future of the club, enjoy free pizza, and get a chance to join our team! It's more than just an official affair - it's a celebration of all the things we've achieved together.
The cherry-on-top? Our raffle giveaway! Every attending member will automatically be entered into a draw, standing a chance to win a Google Nest Mini. This high-tech treat could be yours just for showing up!
Fort Fun Time
Post-AGM, we'll retreat to our cardboard fortresses! Chat, play board games, indulge in snacks, and enjoy the enchanting glow of fairy lights. We'll do our absolute best to make Smores with the t-shirt presses.
We expect to wrap up around 8:30 PM, but you're welcome to stick around longer and help us prepare for Semester 2 or play more board games.
---
Because of the need to have numbers for catering, we're recommending you register for this event now: